LETTING GO OF MEMORABILIA
Sometimes the things that are hardest to let go of are objects that carry memories and emotional attachements. Consider this end of the year meditation on letting go and the accompanying ritual Letting Go of a Symbol - Internalizing the Memory.
RECOGNIZING FAKE NEWS & PROPAGANDA
During these tribal times where it seems like each side is calling the other's sources "fake news," how do you and your children recognize what is true and what is biased. Click here for strategies.
THE LIGHTER SIDE OF COUPLE COMMUNICATION
Click here for humor for the hard of hearing (or anyone else who thinks their spouse is not listening. Sometimes we just have to lighten up.
KEEPING FAITH (& HARMONY) WITH OUR YOUNG ADULT CHILDREN
If you have older children, perhaps they were home visiting over the holidays. This can be a wonderful time but it can also prompt parents to wonder about how best to relate to our young adults. Check out: Keeping Faith (& Harmony) With Our Young Adult Children.
LIFE / WORK BALANCE
One of the common issues facing modern families is how to balance family and work. Add to this the challenge of having time for oneself, and life can feel like a treadmill of unfinished To Do lists. Check out my Life / Work Balance enrichment piece to get some ideas for keeping your balance.
CELL PHONES AND KIDS
What is the appropriate age for a child to get a cell phone? A smart phone? Click here to check out some facts, some opinions, and a process for deciding.

PODCASTS & VIDEOS ABOUT LIVING SIMPLY AND STUFF
Mini Lenten Retreat podcast: Spend 45 minutes listening to my podcast on simplifying life during Lent and beyond, hosted by Elizabeth Reardon of Breadbox Media.
Recently Gerald Iversen of Simple Living Works did two podcast interviews with me about:
Living simply with children
The story behind my Blessed By Less book
These podcasts are abou 30 minutes each. Enjoy.
For a message hidden in comedy watch Jerry Seinfeld's 5 minute video, There's too many things.

MARRIAGE MOVIES
It's Date Night and you can't think of anything new and exciting to do. Try one of these classic romantic movies. Don't like any of them. Give me your recommendations.


MY LATEST BOOK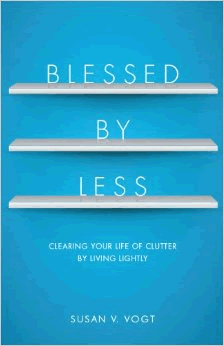 My latest book is Blessed By Less: Clearing Your Life of Clutter by Living Lightly. It's a summary of what I learned by giving away at least one thing a day for a year. It's a mix of practical tips and spiritual wisdom that comes from living more lightly on planet earth.

Click here to watch a 15 minute YouTube video about the book.
To find out more about Blessed By Less and my other books, click here.
PS: Blessed By Less was just awarded 1st Place by the Association of Catholic Publishers in the category of "Inspirational Books."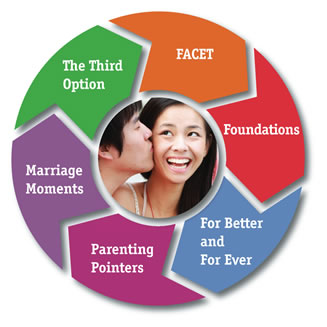 LEADERSHIP RESOURCE
Marriage Ministry Made Easy was launched at the Aug. 3-6, 2011 National Association of Catholic Family Life Ministers (NACFLM) Conference. This is a collaborative effort by five long time NACFLM members (Kathy & Steve Beirne, Fr. Rob Ruhnke, Pat Ennis, and myself).
Our goal is to offer resources that support marriage across its lifespan. As a start, we have developed 52 Easy Ways to Support Marriage in Your Parish. You probably are already doing some of them. Check out the list to find more.


4 MINUTE RADIO SPOTS ON MARRIAGE
Jim and I have done some 4 minute marriage inspiration spots for American Catholic Radio. You can listen to the whole 30 minute program or, if you just want to hear our 4 minute Marriage Moment, scroll to the middle of the program. Be patient. It may take 10 seconds to load. Among the 13 topics covered are:
#10-09 How do spouses get past 'the importance of being right'?
#10-13 What are the rules for arguing?
#10-17 Whose job is it to clean the bathroom - and other misc. jobs?
Click here and scroll for more.
_____________________________

UPCOMING PUBLIC MARRIAGE, PARENTING, & SPIRITUALITY PROGRAMS
Winter - 2020
TOPIC: Answering Our Teens Questions about Faith
DATE: January 22
TIME: 7:00 pm - 8:00 pm
PLACE: St. Barbara Parish, Erlanger, KY
CONTACT: Stan Heck email: stanheck47@gmail.com, (859) 360-1108
TOPIC: Teens, Sexuality, and Faith
DATE: February 12
TIME: 7:00 pm - 8:00 pm
PLACE: St. Barbara Parish, Erlanger, KY
CONTACT: Stan Heck, emai: stanheck47@gmail.com (859) 360-1108
RSVP by Feb. 16
TOPIC: Raising Christian Children in a Consumer Society
DATE: March 15
TIME: 3:00p - 4:30p
PLACE: Epiphany Parish, Louisville, KY
CONTACT: Lisa Downs, email: lisa@epiphanycatholicchurch.org, (502) 245-9733 x20
_____________________________


ARCHIVED MARRIAGE MOMENTS & PARENTING POINTERS
To see a list of previous Marriage Moments, click here and then on Marriage Moments.
To see a list of previous Parenting Pointers, click here and then on Parenting Pointers.


---